The 2022 Subaru Love Promise Community Commitment Award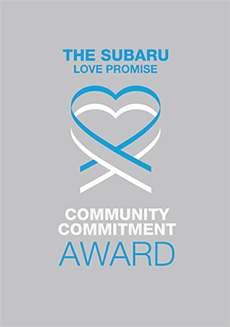 We've been nationally recognized for our dedication to our community and the Subaru Love Promise.
We're honored to receive the 2022 Subaru Love Promise Community Commitment Award. This award nationally recognizes Subaru retailers who are making the world a better place while demonstrating an outstanding commitment to supporting passions and causes in local communities. These efforts are focused in important areas such as the environment, community, health, education, and pets.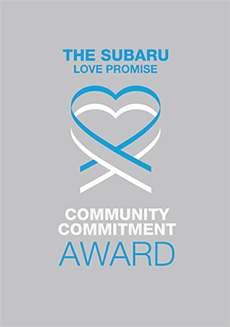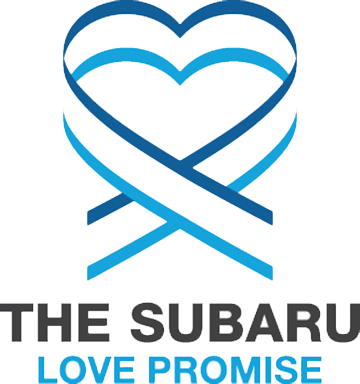 What is the Subaru Love Promise?
Subaru and our retailers believe in making the world a better place and the Subaru Love Promise is our vision of respecting all people. This is our commitment to show love and respect to our customers and to work to make a positive impact in the world.
How is Morrie's Minnetonka Subaru dedicated locally to the Love Promise?
Our Love Promise can be seen in various partnerships with local charities and non-profits. We're grateful for the opportunity, not only to be a part of our community, but to serve it as well.
Love Promise Stories from Morrie's Minnetonka Subaru
Subaru and Morrie's Minnetonka Subaru believe in making a positive impact on the communities in which we live and work. We uphold that belief through our Love Promise Community Commitment. Every month, we select inspiring stories from customers and partners from around our area who strive to support our collective commitment and feature them here
Project Delta Inc - Patti R
Project Delta is a nonprofit organization founded in 2016, supporting veterans and first responders suffering the effects of PTSD, Traumatic Brain Injury, MST and physical disabilities as it relates to serving. We pair these men and women with rescue, shelter and/or donated dogs with a desire to work 1:1 with a handler as their service dog. What sets us apart from many organizations is our willingness and dedication to travel to where our handlers live for public access training. After driving endless miles, it became clear that a vehicle specifically designed to assist our teams would be needed. Morrie's Minnetonka Subaru was the only dealership that even returned an informational email. Not only did we meet, but they blessed Project Delta with a brand new, wrapped, Subaru Accent! This vehicle has been an organizational game changer for Project Delta. We have traveled the state training teams, evaluating prospect dogs and meeting with partnering organizations. The vehicle is literally a training facility on wheels. I cannot tell you how many people have waved, saluted and given a thumbs up as we pass by.Our gratitude is endless but not only for this amazing vehicle, but for the friendships created between like-minded individuals. A huge thank you to David, Scott and the Morrie's Minnetonka family! ~ Patti Robinson ~Founder and CEO of Project Delta Inc.
---
Subaru Loves to Care - Jennifer S
Subaru of America, Inc. continued its longtime partnership with The Leukemia & Lymphoma Society (LLS) for the sixth consecutive year to send love, hope and warmth to patients battling cancer during Subaru Loves to Care month in June. As part of the partnership, Morrie's Minnetonka Subaru and a record 606 participating Subaru retailers nationwide supported more than 40,000 blood cancer patients by mailing blankets and messages of hope, handwritten with love and care by Subaru retailers and customers, directly to patients' homes. Visitors to Morrie's Minnetonka Subaru retailers were given the opportunity to write personalized messages of support to cancer patients in their local communities. Our local LLS Upper Plains Region couldn't be more thankful for Morrie's Minnetonka Subaru coming alongside our patients in such a tangible and comforting way during cancer treatment! Survivor Kaleb and his family says it best below: Subaru Partners— Thank you all for the support you have given to our son, Kaleb, who was diagnosed with AML in January of 2020. Our family has received help through the LLS Travel Assistance program and the Urgent Need program. These two have helped out our family tremendously. Not only for travel cost, but not having the burden to worry about other costs associated with having a child in the hospital for six months and ongoing appointments after that for follow-up. Your support and generosity is appreciated more than you will ever know. We are so blessed to have organizations like yours to help families like us. Thank you from the bottom of our hearts! Dave, Cassandra, Kaleb, and Alayna
---
Whether it's car trouble or trash, less is better. - Andrew S
Whether it's car trouble or trash, less is better. For better or worse, and the answer is definitely worse, waste management and recycling falls on the consumer. It's up to everyday people to know exactly what can and can't be recycled, find a facility that can handle that material, and transport it. However, even the most thorough and resilient recycler simply runs out of options for a lot of packaged goods. Specifically, aluminum lined wrappers that contain products like granola bars. As an aspirational weekend outdoorsmen, the choice of giving up granola bars, and I'll be honest, Snickers bars, and creating unnecessary waste is a pretty awful catch-22. Very few consumer packaged goods companies have stepped up to find a solution to waste that they contribute to creating. This is where I find it delightful and surprising that a car manufacturer stepped up to provide a solution for problems that arose from other industries. Since finding this out, I've created a Terracycle jar in my apartment, even created a cool label for it, and have meticulously cleaned up and stored all waste that couldn't be recycled in curbside pick up. Now, every time I come into Morrie's, a soon to be park bench or fleece sweater comes along for the ride in the form of my Terracycle jar. For awhile, when an issue came up with my car like a recall or oil consumption problem, it had a silver lining. I was able to empty our Terracycle jar. An interesting phenomenon even started to take place where my roommate would ask when I'm going back to Subaru. Not being constantly at an auto service facility should be a good thing right? I think he was actively rooting for car trouble. Bad roommate. It's clear that the next challenge for me is to find ways to not fill the jar so fast. The hope is that when I find myself only coming back to Morrie's for scheduled maintenance, it's exclusively a positive thing and I'll no longer have to hunt for silver linings if my Forester needs some TLC.
---
Sharing the Love for Cancer Patients - Shannon B
The team at Morrie's Minnetonka Subaru chose The Leukemia & Lymphoma Society, MN/ND/SD Chapter as a Share the Love hometown charity this past winter. Throughout November and December, YOU - their amazing customers - were able to choose a charity to receive $250 of your purchase. This resulted in a donation of over $50,000 to our local chapter to assist blood cancer patients and their families. Our cancer patients need us now more than ever, as they navigate everything from financial struggles, how to receive cancer treatment during a shutdown, and extreme anxiety as compromised individuals themselves. LLS can be here for THEM because YOU are here for us. Thank you from the bottom of our hearts, Morrie's Minnetonka Subaru!
---
Blankets & Craft Kits for MN Oncology patients - Shannon B
For the fourth year in a row, Morrie's Minnetonka Subaru and LLS spread love, hope and warmth to both blood cancer patients and families currently being treated at Minnesota Oncology on July 8. Care cards written by Subaru customers and employees were then handed out alongside donated blankets to provide words of comfort to patients during their cancer journey. Long-time volunteer and leukemia survivor Heidi Gusenius, accompanied by her two adorable children Rylan and Mari, accepted a blanket on behalf cancer patients at MN Oncology. At the young age of 24, Heidi was diagnosed with acute myeloid leukemia in 2005 and relapsed again in 2017. She is currently in remission and being monitored monthly by her amazing care team at MN Oncology. Heidi believes the research funded by LLS is one of the reasons she is alive today: "Because of their Beat AML initiative and all the blood cancer research funded by LLS, I am filled with hope for not only my future, but for so many other patients facing cancer." The other reason she attests her life to: Dr. Steven Rousey, her MN Oncology doctor. "Dr. Rousey has literally saved my life twice and I could not be more grateful. Thanks to him and the staff at Minnesota Oncology, I have been given more precious time with my two young children. And in our house, Dr. Rousey is talked about as the coolest Super Hero ever!" Dr. Rousey joined the group for the special event alongside Heidi's family. Heidi's daughter was excited to help hand out blankets to patients in the waiting room that day alongside General Sales Manager, Scott Thomas. Heidi says, "We are so thankful for the generosity of Morrie's Minnetonka Subaru and grateful to Minnesota Oncology as they provide care and treatment to so many pediatric blood cancer patients."
---
2019 Pints for Preemies Fund Raising Event - Lisa O
Thanks to financial support from Morrie's Minnetonka Subaru, Minnesota Neonatal Foundation hosted our annual "friend-raising" event, Pints for Preemies, at Urban Growler Brewery in April, 2019. In an evening of fun and magic, the funds raised at the Pints for Preemies event were specifically identified to purchase crib cameras for the NICU. These crib cameras allow parents and families to check in on their premature and medically fragile babies using wireless technology connected to a smart phone application. Parents who need to go back to work can check in, as can siblings and extended family around the world. Thanks to this event and a generous corporate sponsorship from Morrie's Minnetonka Subaru we were able to raise enough to purchase eight of these life-changing cameras. Thank you for helping to make a difference!
---
Bringing Love to Babies, Families, NICU Staff! - Lisa O
The Minnesota Neonatal Foundation can't thank Morrie's Minnetonka Subaru enough for the love they brought to our NICU Family Reunion on June 24, 2018, making it a HUGE success. The event was the first one ever and was very well attended by nearly 400 NICU graduates, families and medical staff. These families and medical staff members went through trial by fire together in the NICU but rarely connect beyond their stay in the Neonatal Intensive Care Units. However, they remain in one another's hearts forever. Your generous financial contribution helped bring this event to life by helping to offset the cost of the incredible venue at Richfield Veterans Park, Nate's Hot Dog truck and, last but not least, the ice cream truck! In addition to your generous corporate sponsorship, I would like to call out a few of the many contributions Scott and the Morrie's team members delivered at the event: • Provided lots of muscle to set up, tear down and move picnic tables! • Set up and provided security for the volunteer tent – a place to get a bottle of water, snack or to leave valuables • Set up all indoor/outdoor games and photo booth stations throughout the event shelter and surrounding green space • Supported volunteers as they drove up and dropped off marketing materials, centerpiece materials, folding tables and chairs • Literally, did everything we asked them to do!! Every one of the volunteers were a gift – smiling and willing to help. I would like to give an extra special thank you to Scott. He set the tone for the event through his example. Scott was willing to help with anything he was asked, made excellent suggestions to improve our processes and inspired our volunteers with his energy and enthusiasm. I would absolutely want Scott on my team, every time. He was a treasure. Like our babies in the NICU, the Minnesota Neonatal Foundation is small but growing. We truly appreciate your gifts of cash, on-site assistance and faith in our mission and look forward to many more opportunities to work together, raising awareness and dollars for Minnesota Neonatal Foundation.
---
#SubaruLovesToCare with LLS + Minnesota Oncology - Celeste L
On Tuesday, June 19, 2018, as part of the national Subaru Loves to Care program, Morrie's Minnetonka Subaru worked with The Leukemia & Lymphoma Society to deliver 80 blankets and cards of hope topatients at Minnesota Oncology: Plymouth. David Miller and Scott Thomas came on behalf of Subaru. Both men are active volunteers in the community and their enthusiasm for the project was evident as they happily carried blankets into the hospital and connected with patients. One of the patients accepting a blanket was Fred Cox, a former National Football League kicker who played for the Minnesota Vikings. Fred was grateful to accept the gift from Subaru and had nothing but positive things to say about the staff at Minnesota Oncology. Cox receives treatment from Dr. Paul Zander at Minnesota Oncology's Plymouth Clinicand manages his Chronic Myelogenous Leukemia with daily medication. "He's doing so well," says Cox's wife. "We're very fortunate in that respect." Cox was also able to hand out a blanket to another cancer patient, Rhonda, who accepted the gift with a huge smile and said the visit brightened her day. Other patients were touched as well when they received the blankets from Subaru and expressed how appreciative they were. Chemotherapy nurse, Jane Marostica, said that the blankets would go fast and she expected them to be gone within the next two days. Morrie's Minnetonka Subaru will continue to collect care cards from customers throughout the month and will make one more special delivery of hope.
---
One sandwich at a time - Beth M
The Minneapolis Recreation Development was started in 1967 by Allan Law, who was a teacher in the inner city public school system for 32 years. On any given night there are an estimated 7,000 homeless people in the Twin Cities, and 2,200 of them are children under 17. The goal of MRD is to feed, and provide emergency assistance to as many of them every day as possible. In March, Minnetonka Subaru held a sandwich making event for the 2nd year in a row to prepare 200 sandwiches that would be distributed to homeless throughout the Twin Cities. Because shelters are closed at night, Allan hands out these sandwiches between 9PM and 10AM every night, regularly making more than 50 stops. It's thanks to businesses like Morrie's Minnetonka Subaru that Allan is able to have enough sandwiches to hand out to those in need throughout the cities!
---
Bearing the cold - Polar Plunge 2018 - Anne S
The team from Morrie's Minnetonka Subaru was happy to bear the frigid waters of Lake Bde Maka Ska for the third year in a row to raise awareness and funds for The Special Olympics of Minnesota. In total the team raised over $3200 to support the wonderful cause. Through Special Olympics' athletic, health and leadership programs, people with intellectual disabilities transform themselves, their communities and the world.
---