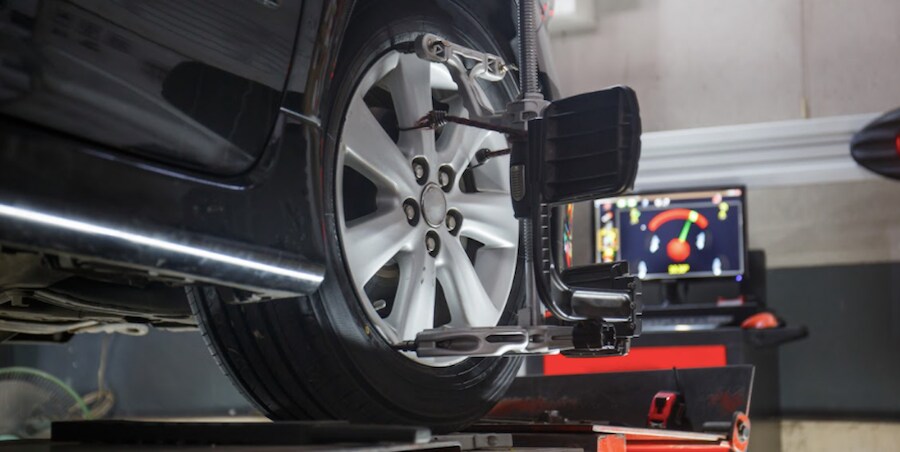 Is your Subaru coupe, sedan, hatchback, or SUV in need of a wheel alignment? If so, we recommend bringing it down to our Morrie's Minnetonka Subaru service center near Minneapolis, where we offer a state-of-the-art facility and a team of well-trained Subaru technicians. 
The Importance of a Wheel Alignment
A long list of variables play a factor in maintaining your vehicle's safety and proper wheel alignments are at the peak of that list. Your Subaru's wheel alignment affects a number of things including its handling, tire wear, tire performance, fuel efficiency, maneuverability, and most importantly, the impact on your vehicle's steering response. 
A properly aligned set of wheels will promote even tire wear, allowing tires to maintain even tread levels all the way around. In turn, this will ensure that tires aren't wearing as quickly, allowing you to save money on tires, grip the road better, and feel more confident when the Minneapolis area throws hazardous weather your way. 
How Do I Know if My Subaru Needs an Alignment?
Most alignment issues can be self-diagnosed by simply letting go of the steering wheel for a brief moment in a safe location and at a slow speed. If your vehicle pulls one way or the other by itself, it's likely that your Subaru is due for a wheel alignment. Additionally, we often find that most misaligned vehicles can cause a vibration in the steering wheel that becomes more and more evident as your speed increases. 
Schedule Subaru Service Near Minneapolis
If you're interested in hearing more about our Subaru service center, our Subaru service specials, or you would like to go ahead and schedule a service appointment for a time that is convenient for you, please feel free to contact us online or pay us a visit here at Morrie's Minnetonka Subaru.