Here at Morrie's Minnetonka Subaru, we know that if you're a Subaru owner, you appreciate the practicality, performance, safety, and overall reliability of your current vehicle, but if you're interested in trading up for a new one, our Subaru dealer near Minneapolis is thrilled to offer you a generous trade-in value for your existing ride. 
Trade-In Your Subaru in Minnetonka
Whatever the case may be, whether you're somebody who is looking to take advantage of all of the latest technology and safety advancements of a new Subaru Legacy -- or if your family is expanding and you are suddenly in need of a Subaru Ascent with a third-row of seating, our team here at Morrie's Minnetonka Subaru is here to help! Our Subaru trade-in process is completely streamlined and we make it easier than ever to upgrade to a more recent Subaru sedan, coupe, or SUV!
So how are you supposed to know how much you will receive for your Subaru trade-in? That's where we come in! Just click on the button above to get started. 

What's My Car Worth?
By simply telling us some important information regarding your vehicle such as the year, make, model, and trim style, it will allow us to come up with an estimate for how much we can offer you for your beloved vehicle. Rest assured, with Subaru models holding their value better than any other vehicle on the road today, and with a constant demand for quality used Subaru vehicles, you'll be sure to receive a competitive trade-in offer!

---
Best Resale Value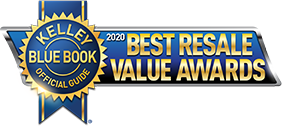 Subaru has the Best Resale Value of all brands for 2020, according to Kelley Blue Book.
---
Additional Subaru Trade-In Resources
Learn More From Our Minneapolis Area Subaru Dealer
If you're interested in hearing more about how we value your trade, how the trade-in process works, or if you would like to get behind the wheel of what could be your next Subaru, please feel free to contact us today here at Morrie's Minnetonka Subaru today! Our friendly team of sales professionals will be looking forward to handing you over the keys to the Subaru that is right for you!